As we start to see some things returning to 'normal' we must remember it's a 'new normal' and for many in the hospitality industry there are many changes for us to implement to ensure your safety and strict new rules that we must adhere to.
As a Catering and Party Hire company we have no set guidelines at the moment so we are just taking our lead from the guidelines in place for Cafes, Restaurants and Hotels. Our customer's safety is important as is the safety of our staff. So even though you may be allowed 20 or 30 at a home or outdoor event, you still need to maintain social distances of 1.5m so you will need to have adequate space for this to work.
Restaurant & Catering Association have developed and designed the "COVID-19 Hospitality Best Practice" micro-credential to equip the industry with an online training tool that will assist in preparing us to return to business. this gives us a framework to work with to ensure we are meeting and probably exceeding the new rules and regulations.
EARNING CRITERIA
The recipient of this badge has successfully completed the required earning criteria.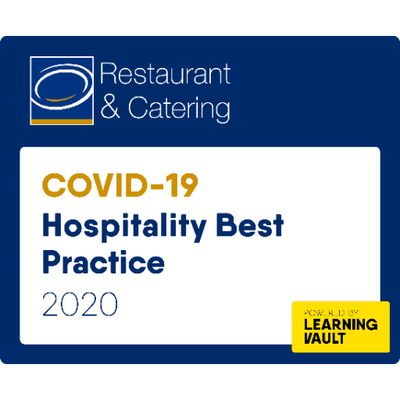 The topics covered from this credential are:
Social Distancing understanding
Creating a Social Distancing Plan (SDP) to suit your organisation
Staff Induction for working during COVID-19
Working during COVID-19
Managing customers during social distancing
Cleaning premises and equipment during COVID-19
As hospitality workers here in Western Australia we also have to complete the Australian Hotels Association Hospitality & Tourism COVID-19 Hygiene Course. Workers in the hospitality and tourism industry have a role in supporting safe and healthy venues and practices. The AHA Hospitality & Tourism COVID-19 Hygiene Course has been backed by the Western Australian Government and is designed to provide our staff with hygiene awareness and procedures. A Venue Hygiene Officer Course is also required for supervisors and managers, we have also completed this training.
This course covered the following modules:

Understanding COVID-19 and the WA Hospitality & Tourism Industry
Reporting of personal health issues
Maintaining personal and work environment hygiene practices
Contactless procedures and reducing cross contamination
Effective cleaning and sanitising practices
As you can see we are doing everything we can to be ready for your Birthdays, Engagements, Weddings and more. Please be ready for it to be a bit different to how we use to party, but we will do our best to ensure everyone has a good time.
Recent Posts
We were proud to host the launch party for Therapy On Wheels with the unveiling of their 200kmph plu …

Cosmic Cocktails & Events is proud to be recognised for our efforts during 2020. When we submitt …

Thank you to all of our Customers for your Votes.We wouldn't be where we are today without you …